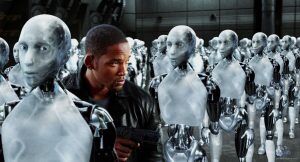 Is 'robotic process automation' taking recruiters jobs? If you've worked in shared services, then you've probably heard about RPA.
But what exactly is Robotic Process Automation? RPA refers to a growing trend across shared service centres all over the world whereby we now have robots that can perform more and more intelligent tasks. Whilst automation has been around for a while, thanks to the rate at which technology is changing we now have intelligent software systems that can process and data quickly and more efficiently than their human counterparts.
RPA is like a software robot, or artificial intelligence, that can perform human tasks and is designed specifically to perform a vast range of repetitive functions and communicate between other systems, in much the same way that humans do.
Once implemented, this software is a cheaper, more accurate and more efficient option for many businesses. Robots don't sleep so they can work through the night, they won't call in sick or be late on Monday morning and you don't have the expense of having to provide them with benefits.
In some areas headcount can be reduced by more than double land with human error eliminated, it's a no-brainer for most onshore…
More than 50% of shared service centres have plans to implement RPA in the future. But why? The main purpose of companies creating SSC's, is to eliminate costs and improve efficiencies. Robots perform better than humans once rapidly trained, so it's no wonder the stats are so high.
Some of the benefits of RPA include:
Reduced costs – between 30% and 80% savings
Improved efficiency
24×7 work
Agility
Increases customer and employee satisfaction
Improved compliance
Human error eliminated
Robotic process automation will be the future of Shared Services. It will eliminate manual processing, reduce errors and inevitably saved time & costs. It will also provide a better service; software robots act in the same way as human beings and are trained extremely quickly to process data in a certain way, although they don't make errors. Over time this software becomes more intelligent as it is self-learning and identifies trends, meaning that any unusual information that may have previously gone unnoticed will be flagged up by the robot.
RPA won't work in everyone's favour. It reduces headcount within a SSC, meaning redundancies for some, and initially, these transformation projects will be a big cost for businesses. Also, because of the complexities of changing existing systems, they don't always work. There needs to be a solid strategy behind it with all stakeholders engaged in the project, as most transformation can fail if not implemented correctly. This is something that we've previously highlighted in these blogs (https://refind.co.uk/how-hr-is-preparing-for-digital-transformation/ & https://refind.co.uk/change-management-learning-secrets-success/).
Not all suppliers are in favour either, as sending invoices electronically may cause issues to supplies current accounting processes.
Some examples of how RPA is used.
Finance & Procurement
3-way matching.
Invoice processing.
Cash allocation.
Credit status
Parsing
HR
Processing starters and leavers
Applicant screening
Recruitment feedback/rejection emails
Data management
Saving on recruitment costs
Payroll
New starters/leavers
Contractual changes
Attendance/absence records
Holiday records
Deductions such a pension, salary sacrifice etc.
Expenses
What are your experiences with robotic process automation? Has your business benefited from new technology, or has it caused problems in your workplace? To discuss you can email me at sam@refind.co.uk
You can view more about Sam Perry our Shared Services Executive Search expert here.