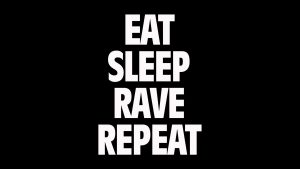 I specialise in change recruitment at work, but my biggest challenge came from change at home – when I had kids!
I never knew how challenging it would be to manage work and family life. Whilst you can vaguely guess at how it might be difficult to divide your full attention between both, you never really know what the reality of it feels like until you experience it.
The main thing that you quickly realise is that you only have some much time available to you, especially when you're running a small business.
I remember when life used to be Eat, Sleep, Rave – Repeat!
Now I feel more like a Labrador going round and round in circles, chasing his tail but never quite managing to get a hold of it…
I know recruiters get a lot of stick but it is a tough job
I know recruiters get a lot of stick but it is a tough job! Both emotionally and also from a time perspective. There is a reason the big recruitment firms make junior recruiters work so hard, its because until you know what you are doing – doing more = better results. The more that you put out there, statistically the more results that you'll get (even if those results don't always hold the greatest value).
That said, I don't think many recruitment firms have moved with the times. Most adverts read; we work hard play hard, we go for beers, you can earn loads of money… I don't think that's really why most people go to work.
These adverts only really appeal to one part of a large demographic. Whilst these might be great perks for someone fresh out of university, for those that have important commitments outside of work then these things just aren't as important.
Your priorities change when you have kids, now the most important thing to me is ensuring I see my boys as often as I can. Not going out with my colleagues for beers every evening (and being judged if you can't make it). Whilst it's great to socialise with your team, and I think it's great to spend time with colleagues outside of the office, this shouldn't eat away into your personal time and cause an imbalance in how your time is spent.
That's why I setup re:find, I wanted to create a culture that supported people (rather than stifling their creativity), enabled people to put their lives first whilst having the infrastructure to enable them to be a success at work and rewarded people not just with cash but with recognition.
Interested? Give me a call. Send me a message. Or leave a comment below. James@refind.co.uk.
You can view more about James Cumming our change and business transformation specialist here